Guitar Hero :Aerosmith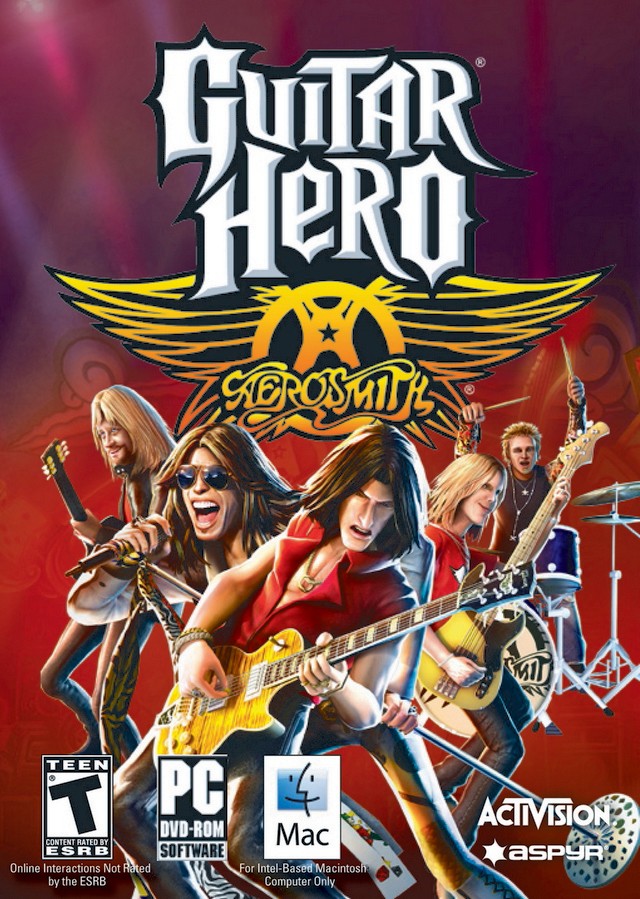 Agarra la guitarra, sube a tope el amplificador y prepárate para
escuchar rock del bueno con Guitar Hero: Aerosmith, el primer juego que
se ha inspirado en la legendaria música del grupo americano de rock,
formado por: Steven Tyler, Joe Perry, Brad Whitford, Tom Hamilton y
Joey Kramer.
Esta última entrega de la franquicia de videojuegos fue número uno en
ventas en 2007. Los jugadores encarnarán a Perry (a la guitarra),
Whitford (a la guitarra) y a Hamilton (al bajo), mientras actúan junto
al líder Tyler y al batería Kramer. Ningún otro título hará disfrutar a
los jugadores de la exitosa carrera musical de Aerosmith que, les ha
hecho merecedores de varios premios GRAMMY desde sus inicios, hasta
convertirse en una banda que ya forma parte de la realeza del rock.
Guitar Hero: Aerosmith lleva esta imprescindible leyenda del rock a un
plano interactivo para crear la experiencia de juego definitiva. Cuando
los aficionados progresen en su carrera en el juego, podrán hacer rock
con las partituras de los grandes éxitos de Aerosmith, así como con
canciones de famosos artistas con los que el grupo ha actuado o en los
que se ha inspirado de alguna manera. Los escenarios de momentos épicos
en la historia de la banda capturan la esencia de su salto a la fama.
[youtube][/youtube]
Lista de canciones:
1. Getting The Band Together
"Dream Police" - Cheap Trick
"All the Young Dudes" - Mott the Hoople
"Draw the Line" - Aerosmith
"Make It" - Aerosmith
"Uncle Salty" - Aerosmith
2. First Taste Of Success
"All Day and All of the Night" - The Kinks
"I Hate Myself for Loving You" - Joan Jett
"Movin' Out" - Aerosmith
"No Surprize" - Aerosmith
"Sweet Emotion" - Aerosmith
3. The Triumphant Return
"Complete Control" - The Clash
"Livin' on the Edge" - Aerosmith
"Love in an Elevator" - Aerosmith
"Personality Crisis" - New York Dolls
"Rag Doll" - Aerosmith
4. International Superstars
"Bright Light Fright" - Aerosmith
"King of Rock" - Run-D.M.C.
"Nobody's Fault" - Aerosmith
"She Sells Sanctuary" - The Cult
"Walk This Way" - Run-D.M.C. featuring Aerosmith
5. The Great American Band
"Always on the Run" - Lenny Kravitz
"Back in the Saddle" - Aerosmith
"Beyond Beautiful" - Aerosmith
"Dream On" - Aerosmith
"Hard to Handle" - The Black Crowes
6. Rock N Roll Legends
"Cat Scratch Fever" - Ted Nugent
"Mama Kin" - Aerosmith
"Sex Type Thing" - Stone Temple Pilots
"Toys In The Attic" - Aerosmith
"Train Kept A Rollin" - Aerosmith
"Guitar Battle vs Joe Perry" - Joe Perry
Bonus: The Vault
"Combination" - Aerosmith
"Kings and Queens" - Aerosmith
"Let The Music Do The Talking" - Aerosmith
"Mercy" - Joe Perry
"Pandora's Box" - Aerosmith
"Pink" - Aerosmith
"Shakin My Cage" - Joe Perry
"Talk Talkin" - Joe Perry
"Rats In The Cellar" - Aerosmith
"Walk This Way" - Aerosmith